sony ericsson vivaz u5i hd.
mdelvecchio
Mar 23, 03:08 PM
I don't buy it; Apple offers the Apple TV for $99 which provides AirPlay.

...and does a lot more than stream airplay. but not everybody is going to buy yet another set-top box. but everybody buys a tv sooner or later -- if apple can get $4+ per set sold, from all the major manus, why not? more TVs sell than ATVs...
---
Sony Ericsson Vivaz u5i
MacCoaster
Oct 2, 08:29 PM
Originally posted by ooartist
To squash some WinTel people in this forum/post trying to say Windows scales better than UNIX.
I never said it scaled better. In fact, I said the opposite.

However, the fact that Mac OS X's kernel is *NOT* BSD, but Mach remains. Mach is a microkernel and a freaking good one, but Mach microkernels that OS X uses has poor task switching; I'm not sure if the Mach microkernels in OS X is based on GNU/Mach (based off CMU's Mach) or the actual Mach microkernel from Carnegie-Mellon. So some of the scalability of UNIX is lost through this. But trust me, UNIX scales way beyond Windows. I've said Windows isn't for computers with more than 32 processors--that's what UNIX is for--pure science--no one needs the crap from Mac OS X and Windows to do science and mathematics research. Real men use UNIX on 8192-way systems. :) :D :)
---
Sony Ericsson Vivaz U5i (Ruby)
Good point. There is a little article in the April Car and Driver that lists all of the cars assembled in North America and their actual domestic parts content. Some of it is pretty shocking. Sorry, I don't think they have it online, but if somebody really wants it, I can scan it.

As an example, the Honda Accord and Toyota Camry are both 80% U.S./Canadian parts content. The Chevrolet Silverado pickup? ...61%. :eek:

Wow, I came into this thread late. I wonder where the other 39% percent of the Silverado is from? I would guess more than one country. I know about the US Toyota plant, but Honda, too?

Anyway, I kind of like the Honda Fit and if that's helping American workers, then all the more power to them.
---
Sony Ericsson U5i Vivaz mobile
Laird Knox
Mar 3, 09:48 PM
A nice contrast of warm and cold colors. The diagonal framing is severe enough to look deliberate and works well with the surreal lighting. If you were to take another whack at it, you might consider placing an object or a person in a window or in the doorway to serve as a focal point. As it is, there isn't really one place in the frame that serves as the primary visual pay-off or subject of the image. Also, you might try an exposure that gives you some more range of tonality, since the blacks are really crushed here, and they occupy large areas of the frame.

Of the three shots I got off that night this was the best one in my opinion. The others just had too much light. Although they didn't have nearly the black fields of this shot (other shots (http://itwontshootitself.blogspot.com/2010/02/night-light.html)). I have printed this out at 20x30 for somebody and really liked the enlargement.

I get your suggestioin about a focal point. That brings up some interesting questions about how to light it. It would have to be very deliberate so as not to spill into the red and blue. As it was I ran around in the dark with a flashlight to light the scene. The total exposure time was 66.7 seconds. :) Perhaps even a faint image of somebody sitting in the foreground. Maybe even a ghostly figure -- only in the frame temporarily so that the cabin bleeds through.

I shot fully open at f-1.4 (it was a dark night). There really wasn't anything of interest in the black areas. That's not to say I couldn't stage anything. The biggest challenge was that I was in a "day use only" area and was worried the park ranger was going to run me off at any moment. My biggest complaint is that they reds are blown out in the right hand window.

The location is only about 45 minutes away. Perhaps I'll give it another go sometime. I've added some strobes and remote triggers to my kit since then. Although I do like the uneven lighting from the flashlight. The way the blue streaks it make me think of an underwater scene.

Thanks for the comments. You definitely made me look at the image again in a different "light." ;)
---
sony ericsson vivaz u5i hd.
Gives us a nice goal to get out of Afghanistan have finished. We got him and destroyed his network ability to launch large attacks. And hopefully put Afghanistan into a position where the moderates will be in control.I very much doubt that Al Qaeda has been dependent on Bin Laden for a very long time, and the day moderates take over from the gangsters who are in control of Afghanistan now is I fear a very long way off.
---
Sony Ericsson Vivaz U5i Black
robbieduncan
Sep 27, 11:24 AM
RAW handling in OSX is done by the operating system, so updates to RAW support imply updates to OSX as well.

I think this is sort of true in Aperture but not 100% true. Aperture has it's own RAW decoders (1.0 and 1.1 versions) which are separate from the system and run in Core Image. I believe that it relies on the system support for colour profile data only...
---
Sony Ericsson U5i Vivaz Kurara
Iconoclysm
Apr 21, 05:09 PM
So, it's most likely they are going do these things.

1. One device that will work on both VZ and AT&T network
2. 32GB and 64G storage.
3. 1080P recording with 8 megapixel camera
4. A5 chip
5. Maybe higher ram or maybe not.
6. Throw in something new... like better gyroscope or something to just make iPhone 4 outdated, but nothing major.

This is BS. It's not good enough, apple.

Huh? What are you expecting? A Geiger Counter?
---
Electronics middot; sony ericsson
http://www.macrumors.com/images/macrumorsthreadlogo.gif (http://www.macrumors.com)

According to reports, Apple has already provided an update to their Mac OS X 10.5 Leopard Preview that was distributed to developers at WWDC 2006. The update provides few details on the improvements provided:



The 46.4MB release is simply entitled "Leopard Developer Preview Update 1.0" and updates Build 9A241 to Build 9A241e.

Apple demonstrated (http://www.apple.com/macosx/leopard/) Mac OS X 10.5 Leopard at WWDC, revealing some of the features that are expected. Mac OS X 10.5 is not expected to be released until Spring of 2007.Any word on the Super Secret Leopard Features???
---
Sony Ericsson Vivaz (U5i)
I just activated my first iPhone (white) a few hours ago on VZW. The clear Incase Snap Case I bought for it a week ahead of time DOES NOT FIT...no matter how hard I try. It seems the white lip is bigger than the black lip, and this is the part the snap case secures to. Anyone else find this?
---
sony ericsson vivaz u5i hd.
A year or two ago I too would have lambasted the decision not to include maps, but having seen how HORRIFICALLY bad Navigon's POI database is I'll gladly take downloaded maps if it means when I search for something I can actually find it. Navigon mitigated this some by utilizing google search, but it's still pathetic that I can't find 80% of the nearby businesses in Navigon.

I've been through 3 Garmin's and loved every one of them. Since my last one was stolen I've lived with Navigon my iPhone. I've never felt it was worth paying for between the horrible iPod integration (volume, podcasts) and pitful POI database.

Assuming there is some caching of maps I think it'll work great, even if the caching isn't persistant (ie. even if it had to download the map from my house to work every day... oh wait I work from home, but you know what I mean right?).
---
sony ericsson vivaz u5i hd.
Yeah, Tom Tom is finally getting this right after all kinds of problems. Once a week (if you choose) you get prompted to download a 1 meg'ish patch. You can do it anywhere and it patches the existing stored maps, no live feed necessary. Takes about 5 seconds.

You do need live feed for traffic, but of course, that is the whole point of that.

BTW, their traffic is awesome now and the routing bugs are finally fixed. Also, their crowd sourced arrival times are the most accurate on any of the platforms and it consistently chooses the shortest route.

I was a Garmin lover and wanted it to desperately come to the iphone, but not with maps like this. Now that Tom Tom is finally getting it right, I won't be getting this.
---
Sony Ericsson Vivaz U5i Mobile
Liquorpuki
Apr 8, 09:03 PM
I am not saying no one should produce children. I am just saying its not the job of the government to make sure people are only cranking out units when they are "ready". Its called personal responsibility. If you get knocked up, deal with it. It's usually your own fault. Maybe your parents should have taught you to keep your pants on. It's not up the the government to teach you these things.

So what about pap smears, cancer detection, HPV detection, STD testing and immunization, sex education, and all the other things that don't have to do with popping out units that the GOP will also be killing?

Maybe we should also tell women that in the name of personal responsibility, they need to learn how to detect cervical cancer their own damn self. Maybe we should also tell a guy with Chlamydia that he should buy a chemistry set and invent his own damn cure.
---
Sony Ericsson Vivaz U5I - 1
Nah. However fast it is, I don't want a mail application that says 'Loading...'.

Edit: Of course, every mail application has to download the mail. I meant when switching between folders.
---
sony ericsson vivaz u5i hd.
SAD*FACED*CLOWN
Aug 19, 06:53 PM
Why does it work only in the US?

Facebook is a US based company, it will roll out globally soon
---
Sony Ericsson U5i Vivaz mobile
* Also, crap DNS speed really throws many people for surfing, anyway. The internet's dirty little secret. I wonder how many millions don't realize they could be faster by typing a couple digits into setup.

I read somewhere that for most users their local ISP's DNS servers are faster than some of the other options out there like Google's.

I did some tests and it was definately true for me. I'm sure it's not true for everyone, but it's worth testing instead of blindly just changing.

Is the data speed bad on your iPhone 4?

I know ATT drops more calls than Verizon but everyone thats tested both data plans (even professional reviewers like Walt Mossberg from AllthingsD) say that the ATT data plan is superior in every single way.

No one bitches about the ATT data plan, they just hate the dropped calls on every single call they make and I understand that people are angry about that.

But the iPad is not a phone and I'm certain most people buy Verizon iPads thinking that its better just because there are problems with ATT iPhone.

In the end you get half the 3G speed on Verizon and also won't be able to use the network in most parts of the world.

I wouldn't trade ATT for Verizon in terms of iPads.

I bitch about it. I get decent speeds at work but crap speeds sitting on my couch at home. I work 3/4 mile away from my home. My house is wood frame/brick. AT&T speeds and signal are inconsistent. This is obviously an opinion held by most of the public.

To be honest, I didn't want a Verizon iPad unless it was LTE. This made me not want an AT&T iPad either. Then I finally realized I didn't want any modem in my iPad, I'd rather get the WiFi and tether....so this is what I did.
---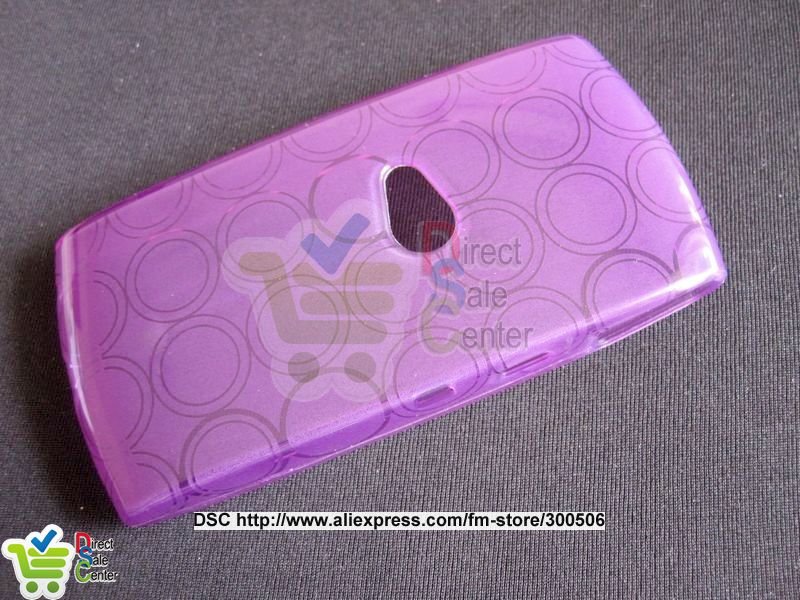 for Sony Ericsson U5i Case
Cougarcat
Aug 19, 10:59 AM
because it's turned on by default. it should be off by default (IMO) and then turned on as an option. many people aren't aware that Facebook's new "features" are almost always on when rolled out.

It will only update if you allow it to use your location, and then after that only if you tap the places icon. It doesn't update your location automatically.
---
sony ericsson vivaz u5i hd.
Still undecided on whether to go to the Apple Store or BB...

Either way will probably head over to Stonebriar since I don't think there's a BB near Willow bend....
---
Sony Ericsson Vivaz (U5i)
Hows great, lion just froze up, i did a hard restart and everything is there ready to carry on. with all the crashes/blue screen of death ms had years ago, you would of thought they would of done something like this.

More server admin and one from server monitor, some reason it do sent work on my mac book pro.
---
sony ericsson vivaz u5i hd.
I can't tell if you're feigning ignorance in the interest of having a laugh, or if you have really bought into the ol' stereotypes. Or maybe my sarcasm detector is broken.
1. Did you know Honda, Toyota, Hyundai, Mercedes-Benz, and BMW all manufacture cars in the USA?
During normal use, my new PowerMac has a very consistent and normal sounding hum.

But sometimes I wake up in the middle of the night, and when idle and not sleeping, the PM's sound becomes unconsistent and goes up and down in about 10 second intervals.

It will be running, and it will sound like it's about to go to sleep...there will be a slight "click" sound, and then you can hear fans wind down and get quiet...then suddenly it "clicks" again, and the fans wind up and get increasingly louder.

It then continues to do this quiet-to loud-to quiet process indefinitely until I begin using it again.

It sounds like an interchanging powering down, then powering up, kind of thing. It's hard to explain.

It sort of does this (imagine the text below to represent the level of sound):

````````*click*----------..................*click*...........-----------``````````

(not sure if that makes any sense, but it's the best I could do).

It kind've sounds like it's trying to sleep, but doesn't quite get there, then powers up again...waits, then tries again.

I've got it set for my 56k to disconnect at 55 minutes of idle, and my PM to sleep at 1 hour of inactvity. I've noticed since I've had it that neither one has ever happened on its own.

Any help/info/advice is greatly appreciated!
---
Why spend the money if there is no market?
---
Right now I have a 24" white iMac with a 2.33 Ghz C2D and a 15" MacBook Pro with a 2.53 Ghz C2D. Both computers are great and work perfectly for what I do. The only problem is having two computers is overkill for me. Transferring files and apps is just too much of a hassle. What I'd like to do is get one of the new 13" MacBook Pros and get an external display to hook up when I'm using it at my desk. I just have a few questions. But first, let me tell you what I use my computer for: I do some web design and development, using CSSEdit, Espresso, Dreamweaver, Flash, Fireworks, Illustrator, Photoshop. I do some RAW photo editing using Aperture and Photoshop. I do a lot of casual web surfing, emailing, etc. I watch videos on Hulu. I'll be going to school in the fall for computer science, so I'll be doing some (or a lot) of...whatever it is they have me doing. I do absolutely no gaming. So, here are my questions:
http://www.guardian.co.uk/commentisfree/2011/may/03/canada-stephen-harper-american-politics

This about sums it up

Canada, you're screwed. :(
---
Not surpising at all. It's all about control of content and money.

All studios, rather music or movie have always hated the idea of selling content even though it makes them a ton of money. If they could do away with all of it, including DVD sells, they would. What they truly want is for you to pay a fee every time you want to view or listen to content and you never "own" anything period. Nothing physical at all to buy, just pay for it every time you view or listen.

Exactly.

In this case, the license is only for delivery to a cable box for viewing on a home TV set. Not for any "mobile" device or otherwise...
---